Executive Committee – 2023
Chair – Anna Ryan
Vice Chair Internal– Pip Kensit
Vice Chair External – Kurtis Gray
Vice Chair Operations – Natasha Polzin
Allied Health Officer – Ellen Jeon
Community & Advocacy Officer – Laura Beaumont
Indigenous Health Officer – Lilly Harvey
Medical Officer – Emily Thomson
Nursing and Midwifery Officer – Jordan Thomas
Sponsorship & Publications Officer – Heidi Annand
Social Media Officer – Nathan Brown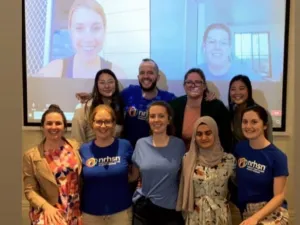 You can contact the executive team here.
Meet the 2023 Executive Committee
---
Anna is a second year medical student with a keen interest in rural generalism. Growing up on a property in the NSW Riverina kick started her passion for rural health, culminating in her return to Wagga Wagga to study.
A Medical Science degree opened the door to rural health clubs for Anna and she promptly joined RAHMS, elected as Vice President in 2021. This, alongside her journey with NSWRDN programs such as Go Rural and Outreach Placements, introduced her to the National Rural Health Student Network, joining the executive as Publications Officer in 2022 and as Chair in 2023. Anna is the proud recipient of a Rural and Regional Enterprise Scholarship and a NSWRDN Bush Bursary.
Aside from a keen interest in working to reduce health inequities in rural and remote communities, Anna enjoys show jumping and spending time with her Border Collie, Harvey.
---
---
Hailing from sunny WA, Kurtis is a current medical student entering his third year at Curtin University. Prior to his medical journey Kurtis completed a Master of Pharmacy at UWA. It was during this time that his interest in rural health was sparked, specifically during placements in Newman and Karratha. Kurtis' pharmacy degree culminated in him being elected president of the UWA Master of Pharmacy Society and being announced as the 2020 Australian Pharmacy Student of the Year.
Upon starting his medical degree Kurtis quickly joined his local rural health club CROHC and in his second year was elected as the Rural High School Visits Coordinator. It was during this time Kurtis completed some of his most rewarding work, where he organised over 20 rural high school visits across rural WA. After loving his experience at his first NRHSN council, Kurtis was inspired to apply for the VCE role at the NRHSN.
---
Natasha is currently in her final year of studying medicine at the Australian National University. Tash grew up in rural Western Australia and has first hand knowledge of the difficulties in getting health care, particularly specialist services, in rural areas and the burden that has on a family with chronic health needs. This is the second year for Tash being on the NRHSN executive, last year servicing as Community and Advocacy Officer. Tash brings many years of corporate experience to the team and is excited to support the NRHSN and RHCs to achieve their goals for 2023!
---
---
Laura is a final-year Western Sydney medical student, currently based in Bathurst on an extended rural placement. Having grown up in the Hunter Valley NSW, Laura has always loved the country way-of-life and has been involved with rural health initiatives throughout her medical schooling career, earning her recognition with the ACRRM's President's Prize in 2021. Having enjoyed previous roles on AMSA Rural and as president of her university rural health club, RHUWS, she was keen to step into a national role this year. Laura is an NSWRDN cadet hoping to pursue a career in Rural Generalism, and having recently fallen in-love with Central West NSW, that's likely where you'll find her in the years to come!
---
---
Emily is currently in 5th year Medicine at the University of New South Wales. Originally from Parkes, Emily is a proud Wiradjuri woman with a passion for rural, remote and Indigenous health. She enjoys spending time with family, as well as playing competitive and social sport in her spare time including touch footy, tennis, league tag, hockey and netball. Emily has been heavily involved in RAHMS over the years and endeavours to practice rurally post-graduation. She is very keen to get involved with her role in the 2023 NRHSN Executive team, and is particularly excited to announce a project she has been working on, the NRHSN Rural Health Webinar. This series will include multiple talks with experienced medical professionals aiming to explore career pathways in rural medicine, get a glance of life as a rural doctor, and address the stigma of practicing rural and remotely!
---
As a final year nursing student, my interest in rural and remote healthcare initially peaked when I first witnessed the difference in accessibility between country and metro locations. This experience was highlighted to me when I relocated to Perth, WA from a small coastal town in the South West to pursue my tertiary education – a Bachelor of Nursing at the University of Notre Dame. Throughout my clinical placements at both metro and remote locations, it has become alarmingly evident just how large health disparities are within the country, and how huge of an impact this has on both rural and Indigenous communities. During my degree, and role as Nursing and Midwifery Officer for the NRHSN (2022 & 2023) I have realised the importance in advocacy and person centred care, specifically relating to increased health outcomes for patients. This approach requires a multi disciplinary team effort in order to ensure that wholistic care is provided. Rural health clubs are a vital aspect in providing interventional opportunities to MDT students to enhance their understanding of the current need within rural locations. These settings permit students to collaborate together allowing them to learn and apply skills which will inevitably enhance the care each student can provide once graduated. As the Nursing and Midwifery Officer for 2023 I will continue to provide support to N&M students across our rural health clubs & ensure that students within my discipline feel seen and empowered.
---
Heidi is a third year medical student at Charles Sturt University in Orange. She grew up in Bathurst in NSW's Central West, sticking around after school to study and work in Theatre and Journalism, before heading into health. Heidi is one of the first students to go through Charles Sturt's new rural medicine program and as part of this has enjoyed representing her cohort not only in her rural health club Rh+ but by starting their medicine society and acting as president the last two years. Heidi has just moved to Swan Hill in Victoria for clinical years and hopes to eventually enter Rural Generalism, with special interests in remote health, sexual health and health communication.
---
Nathan is a 3rd year medical student at the University of Notre Dame Sydney. His background is in Medical and Health Sciences, which he studied at the University of Wollongong. Nathan has developed a keen interest in rural health and medicine whilst studying medicine and is eager to practice medicine in this context in the future. Nathan has previously been involved with the role of Social Media at ROUNDS, and looks forward to continue working in this role at a higher level with the NRHSN.