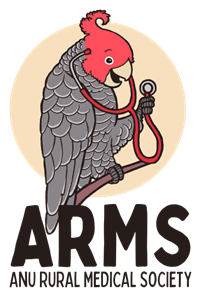 Welcome to ARMS
The ANU Rural Medical Society (ARMS) began in 2004 and consists of members across all four years of the Doctor of Medicine and Surgery (MChD) degree at ANU as well as members in undergraduate health degrees. ARMS is committed to promoting a career in rural Australia and bringing awareness of the unique health care needs of those living in regional and rural areas across Australia.
As part of ARMS membership, we run several events across the year including attending rural shows – engaging with the community and doing health checks; speaker nights by accomplished doctors living and working in rural areas; visiting high schools in rural NSW to promote a career in health care; and other exclusive member only events. Representing the Australian National University, ARMS members will find themselves typically engaging with the communities across Goulburn, Cowra, Young, Cooma, Moruya and Bega. If you are a someone from these areas and would like to arrange for ARMS to visit your school, show or community gathering, please reach out to our secretary via email:
ARMS is the convenor of the annual Indigenous Health Conference. This event is a keystone in our calendar, bringing together students from across our regions to engage with experts and key stakeholders vested in improving healthcare outcomes for Indigenous Australians. Details for attendees are sent out via our membership database and social media prior to the date of the conference each year. If you are interested in presenting a seminar or holding a workshop as a part of the conference, please reach out to our Indigenous Health Promotion Officer via email:
We are a not-for-profit organisation working to improve the access to healthcare for those living rural and regionally in Australia by inspiring regional children to follow a pathway through healthcare and return to service their communities. If you are a local of our area and would like to know more about what we can do as a society for you, please contact our president via email:
By becoming a member of your Rural Health Club, you are also a member of the National Rural Health Student Network (NRHSN). The NRHSN represents the future of rural health in Australia. It has more than 9,000 members who belong to 29 university Rural Health Clubs from all states and territories. It is Australia's only multi-disciplinary student health network, bringing together people studying medicine, nursing and allied health, encouraging them to pursue rural health careers. It is important to keep your details up-to-date to ensure your RHC and the NRHSN can keep you informed of everything exciting that's happening in rural health.