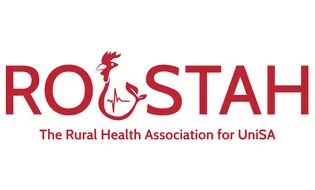 Welcome to ROUSTAH, we are currently dormant.
If you want to restart the rural health advocacy adventure at the University of South Australia please contact the Department of Rural Health:

[email protected]
Who Are We?
Rural Outlook for University Students Towards All Health (ROUSTAH) is a student-run Rural Health Club for the University of South Australia. The club was formed in 1996 to generate interest in rural and remote health issues and practice among university students. We are members of National Rural Health Student Network (NRHSN) & the University of South Australia Student Association (USASA).
We warmly welcome students from all health programs, including Allied Health, Nursing, Midwifery, Psychology and Social Sciences.
ROUSTAH is about sharing enthusiasm for rural and remote health practice. We are all about getting students together to learn new skills and knowledge relevant to rural practice while developing relationships with like-minded people.
Members have the opportunity to participate in and access:
Social on-campus and off-campus events

Conferences

Public speaking opportunities promoting rural health

Rural high school visits

First Nations engagements and learning opportunities

Scholarships

Royal Flying Doctors Service (RFDS) student attachment flights
To become a member follow these 2 important steps:
Register with the NRHSN and complete your personal details.
Create a USASA Account and join ROUSTAH as a club by following this link (This ensures that you will be covered by our insurance for any events and activities that you do attend).
By becoming a member of your Rural Health Club, you are also a member of the National Rural Health Student Network (NRHSN). The NRHSN represents the future of rural health in Australia. It has more than 9,000 members who belong to 29 university Rural Health Clubs from all states and territories. It is Australia's only multi-disciplinary student health network, bringing together people studying medicine, nursing and allied health, encouraging them to pursue rural health careers. It is important to keep your details up-to-date to ensure your RHC and the NRHSN can keep you informed of everything exciting that's happening in rural health.
Semester One Scholarship Applications are OPEN!

Semester One Applications are currently OPEN! Applications close 30 June 2019 To see if you are eligible, please review the Scholarship Guidelines and submit your Application via email to

[email protected]

by Sunday 30 June 2019. You will be eligible to apply if you have completed or intend to complete a minimum 4 week rural placement between 1st January 2019 and 30th June 2019. ROUSTAH provide 1…